Using Newsgroups for newbies
Free Software
Windows
SABNZBD free usenet newsreader to download binary files.
QuickPar software raid recovery for missing, corrupt, misnamed files both par and par2 files.

Mac
SABNZBD usenet client use in conjuction with giganews.com account.
MacParDeluxe $free for par and par2 files and Split and Concat $free
Linux
SABNZBD free usenet client

Notepad (comes with windows) associate .nfo files with it to read iNFO files. Format | Font | choose Terminal. This allows you to see dos character ansi art in the .nfo files.
IZArc free unrar multiple rar'ed files. .rar - .001 - .part01.rar

Giganews
Giganews Newsgroup Service If you use a binary newsgroup reader like SABNZBD giganews is excellent with their retention rate and speed. Giganews.com offers the following plans. $25/month for unlimited downloads with 20 simultaneous which includes SSL so your downloads are encrypted . If you wish to have private VPN and 50 simultaneous connections it's $35/month. Giganews is well known in the industry and provides newsgroups services for many ISPs and their customers. You might save a few bucks with other less known ones but if your serious about usenet you can't go wrong and I've used it for many years. Now has over days retention which is insane. Only a couple years ago most retention was a couple of months.

Easynews


Easynews.com $10 per 20GB or 30days whichever comes first. Has web interface to browse files and batch downloading. Has about 30 day retention. Easynews is good for those who want to downloaded very little as 20GB/month isn't all that much nowadays in 2011.
Handy easynews.com links:
Easynews Global search
Easynews Secure downloading



Astraweb.com is pretty decent newsgroup provider too and for unlimited downloading is cheapest one you can get for $11/month. Comes with SSL and up to about 1055 days retention too.
Newsgroup Links
Which app, movie, game, etc. has been released to which newsgroup can find by looking at posted NZBs. If you know which file you want simply search for it. If, however, you want to monitor files on a daily or weekly basis you best bet is to pay the $10 lifetime for nzbmatrix.com. Also to note please use the https (encrypted) links below to keep your searches private from your ISP.
nzbmatrix.com $10 / lifetime membership best for browsing nzb newsgroup files. Can sort bases on Size or # of Hits for instance. Goes back to 1,000 days of nzb retention.

Download .nzb files for free
nzbindex.com offers maximum age to 500 days with up to 250 results per page. Min and Max sizes too. Like this free one the best for searching as it has a handy download nzb file link next to each entry.
binsearch.info is a nice free one if you need to go back 1100+ days of retention.
nzb.cc only shows content at least 50MB and you can sort by relavance, age, or size. Has a great NFO viewer for those files providing an NFO.
Uncensored Usenet Service
days binary retention, Unlimited Access, 99%+ Completion! Signup for Giganews' free trial account and try for yourself.
www.giganews.com


Simplified Newsgroup Guide
Cheap Usenet Newsgroup Provider SuperNews


If you don't need bundle services like VPN or a usenet browser then Supernews offers an excellent choice. It offers cheap newsgroup access. Unlimited downloads with over days of retention. Another thing which is becoming more common is SSL 256 bit encyption to keep prying eyes away. Up to 30 connections help speed up downloads. Usually for me nine connections is all I need though to maximize my downloads in most circumstances. Depends on congestion with your ISP. Supernews will suffice in many cases if you just want the basics for a more than reasonable monthly rate.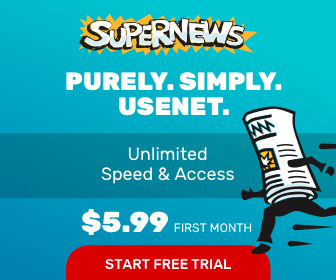 Just a year or two ago it was unheard of to have this type of long retention. Many ISPs their rentition for newsgroups is just a couple of days usually. That's why it's imperative to get a reliable usenet provider. Also a relatively new thing is the unlimited downloads which used to be capped at 10GB or 20GB a month for instance two or three years ago. Times have definitely changed and it's a win win for usenet consumers.




Free Usenet Newsgroup Client SABNZBD
SABNZBD is a free usenet / newsgroup client. Once it is setup it is a breeze to use. I highly recommend this rather than buying any $30 or $50 usenet clients. SABNZBD works in Mac, Linux and even Windows too.
SABNZBD uses your web browser (Safari, Firefox) to manage downloaded nzbs.You can see your history, delete history if you wish selectively. Rearrange your queue. Pause downloading temporarily or even specify how many minutes you wish to pause it.


View the follows to be downloaded for each nzb file. It will skip the par sets if not needed saving you time and bandwidth.
For each nzb file you can view history of how long it took to download and average download speed. Also the time in takes to unpack or repar if necessary.
On Mac it comes with a toolbar which displays total time left to download all nzb files. Can view nzb files in Queue and History, Limit Speed or Pause downloading temporarily. Also shows size of your destination folders for COMPLETE and INCOMPLETE.
I set my Mac computer to a static IP and enter it in the SABnzbd Host section. API Key I generated one to use with the iPhone myNZB app.
I put .nfo, .srr, .sfv, .diz, .nzb to clean up junk files which I don't want.
Temporary Download Folder on Mac is in Downloads folder with subfolder incomplete. Once it's downloaded it'll unpack to the Completed Download folder. Now on Mac I like to have it automatically move to my NAS (Network Attached Storage device). Sometimes when you reboot the path will change from /Volumes/eiga-1 to /Volumes/eiga or /Volumes/eiga-2 for instance. Only way to check it is open TERMINAL app and type /Volumes/ and hit tab key and see which one is the active one.
Watched Folder is downloads on Mac and every five seconds it'll scan for an .nzb files if downloaded and then automatically add it to queue and delete the nzb file.
Only reason showing this screenshot with all these options is just to show you how powerful and automated it is. Once nzb file is queued and item is downloaded it'll check it and unpack it automatically and delete the files no longer needed.
Pause Downloading During Post-Processing is an awesome option especially if you have a high speed connection say 10Mbps or above and you incomplete and complete folders are on the same hard disk. I highly recommend enabling this option if that's the case as it'll speed up the verifying, repairing and unpacking quite a bit.
Ignore Samples I don't like samples so just prefer to have them downloaded in case parity set requires them and just have them deleted automatically.
RSS feeds is awesome within SABnzbd. Just set it to search for your favorite shows or whatever it'll check every 60 minutes when your computer is awake and not sleeping. Frequency of time checking can be changed in General options. Narrow it down to a section you like and right click to copy the orange RSS link. You can click Preview to see what results would return.
SABnzbd is the best free newsgroup client and once all the options are set it's free sailing with pretty much nothing left to do.
MyNZB is a $3 iPhone app that connects to your SABnzbd client. You can downloaded NZB files. Change queue, purge history, search for nzb files, browse new nzb files on tvnzb, etc. Appears that tvnzb is dead oh well the other two work fine.
In Settings on iPhone for MyNZB put your server info and I recommend using the API Key. Be sure to set Auto Refresh to ON and Refresh Interval to 15 seconds are my recommendations. Also set your NZBmatrix $10 lifetime username and API key too.
SABmobile HD is another one I use in addition to MyNZB on my ipad and iphone. One thing I like is you can specify exactly the speed limit which is handy at times.
QuickPAR, MacPAR deLuxe PAR files
Note: The info below is in case you ever have to manually repair a file. With the SABnzbd client all of this is handled automatically. Still good to understand what parity files are though.
Now that you've download 50 rar files you may have some incomplete or missing rar files. You need one PAR(ity) file per missing file. If your missing 5 rar files you need 5 parity files. Doesn't matter .p01 .p04 .p07 .p08 .p10 will do.

QuickPar, MacPAR deLuxe PAR2 files
PAR2 files are new and improved. Partially downloaded files from a set can be used to recover which makes it more efficient than par files. QuickPar will tell you how many blocks you need to recover. . Say you are missing 16 blocks then you'd need to download the files b) through e) since 1+2+3+5+9 = 20 blocks. Open QuickPar and in the options be sure to check Associate with PAR2 files so you just need to double click on any one of them.

Here's an example of what a PAR2 recovery set looks like. Number of blocks are in bold.
a) somefile.par2 56KB
b)somefile.vol000+01.PAR2 2,244KB
c) somefile.vol001+02.PAR2 4,487KB
d) somefile.vol003+03.PAR2 6,675KB
e) somefile.vol006+05.PAR2 11,106KB
f) somefile.vol011+09.PAR2 19,912KB
g) somefile.vol020+16.PAR2 35,281KB
h) somefile.vol036+23.PAR2 50,594KB
i) somefile.vol059+23.PAR2 50,594KB
j) somefile.vol082+23.PAR2 31,938KB

SFV If you have an .sfv file you can double-click it and it'll verify file integrity in the entire set and point out any missing files. If you have a .par or any parity file you can just ignore the .sfv as it's redundant.



MacPAR deLuxe missing .003 and .008. I need 211 blocks and onnly have 32 + 64 = 96 blocks. Once I get 211 - 96 = 115 more blocks I'll be able to recover the .iso image.



Create Par2 preferences.

Split and Concat isn't always needed but in some cases in may be so it's good to have. Kinda automates the unarchiving process.
IZArc or Winrar
Extract your rar set archive by clicking on the first rar. It's either .rar or .001 or .part01.rar
You may get a .bin .cue in which case burn the image file to cd. Mount the .cue file as a virtual cd-rom with daemon-tools and choose CD to CD copy with the virtual cd-rom as your source in Nero, etc..
Note: if it's .part01.rar you may have to use winrar rather than IZArc.
Easynews
Use it if you can't locate enough pars to recover missing rar files and you'll make your 6GB go a long way. You can use NNTP (Network News Transfer Protocol) interface with xnews and they don't charge you for header download but the web interface can't be beat for ease of use. They mention a 250MB limit but 2000MB is possible (2GB max). Check a box of file#1 and check a box of file#10, click Ranges then choose a zip manager queue of #1 - 10 for download then unzip when complete. Definitely check out there Global Search feature. Also you may login securely too.

Doesn't get much simpler than that. Obviously there's quite a few other ways of doing it and various other software out there but this seems the

example how to resume a download using wget (windows, mac, linux)
wget -c --http-user=USER --http-passwd=PASS http://zip.members.easynews.com:81/cgi-bin/zipit/2-1b80e.zip
Giganews VYPRVPN Virtual Private Network
If you value your privacy either due to business transactions or paranoia or whatever the case. Giganews offers a VPN Virtual Private Network for those who are giganews Diamond members $30/month. This VPN service encrypts all your data on the internet. Not just SSL newsgroup encryption but for all browsers and other programs. Use for Mac, Linux or even Windows. For uploading and download data, cruising various websites, chatting etc. This prevents your ISP from eavesdropping and logging some basic data of your internet communications.The way private data is being sold nowadays this virtual vpn arguement is becoming much more lucrative to the average internet user.
Showing you setup process on Mac.
Click apple icon | System Preferences | Choose Network
Click + sign to create a new network service. Call service whatever helps you remember it VRYPVPN for instance.
Enter us1.vyprvpn.com if you wish to use American server or eu1.vyprvvpn.com for European server.
Enter your giganews account name.
Check Show VPN status in menu bar.
Click Authentication Settings and enter in your giganews account password.
Check option Send all traffic over VPN connection.
Click the icon in your menu bar and connect and do the same when you wish to disconnect.


Updated January 2012



Back Home