To send a Whatsapp message to multiple contacts at a time without creating a group so that this app has introduced an advanced feature called 'Broadcast Lists' it helps to forward texts for several chats at the same interval. By this users can transfer a piece of information to up to 256 people.
As we all know it is a popular messaging app and by using this we can easily communicate. Most people are using this messenger to share images, videos, files, etc., Nowadays people are looking for amazing features to use. By using that different features users can enjoy.
Many times we get irritated to convey the same information to everyone and it is a time taking process. If we forward the same text to many chats it shows that statement was forwarded. If they receive and see it shows that it was forwarded by someone by seeing that they feel bad.
In this article, we will show you to forward the text to several persons at the same time. But if you want to deliver bulk images at the same duration it is a very simple process and not only for images but also for videos, documents, etc. Now have a look at the below description.
Method-1: Using Android:
Here you need to create a broadcast list using a statement that you want to deliver to the chat members. Now make sure the chat members should be saved in your phonebook. Follow the steps carefully given below.
Android
First of all, you need to open the latest fmwhatsapp apk on your android device and now click on the Chats option which is at the top of the app.
Here you will see the three vertical dots on the upper-right corner of the home screen.
After that, you will see the "Choose New Broadcast" option on your screen.
Now click on that option, and select all the names and type the text you want to transmit.
Once completed, you need to click on the green tick placed on the lower right-hand corner by that your list gets ready and use it happily.
Method-2: Using ios:
First, you need to open the app on your iPhone after that Tap on the Chats button which is at the bottom of the main screen.
Now you will see the Broadcast Lists option on the upper right-hand corner and click on it.
After that, select the new list and mark the checkbox placed next to the "multiple contacts".
Once done, your list is ready and now you can communicate with your loved ones.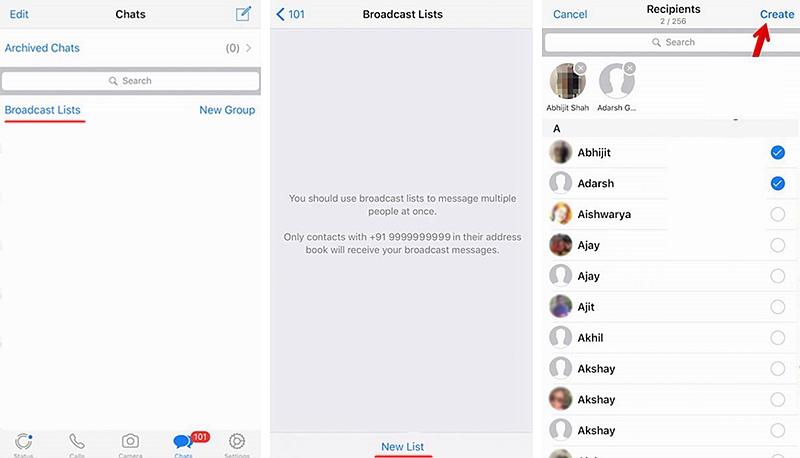 Now with the help of the broadcast option one can easily communicate with different members in the chat. We tried to paraphrase or summarize the information to chat with various members at the same moment If you have any questions then comment on the comment section I will try to reply to you all as soon as possible.